Beauty & Self
Books & Music
Career
Computers
Education
Family
Food & Wine
Health & Fitness
Hobbies & Crafts
Home & Garden
Money
News & Politics
Relationships
Religion & Spirituality
Sports
Travel & Culture
TV & Movies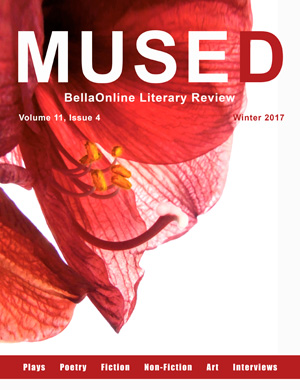 We all travel on this blue-green ball around our very own star each year, sliding a little closer, sliding a bit further away. The balance is critical. Too much closer and we'd roast. Too much further away and we'd freeze.

We should be aware of just how blessed we are that our Earth is "just right" - and do what we can to keep our world healthy. It's the only one we have.

Enjoy the Mused Winter Solstice 2017 Issue



Travel Hints For Keeping Track Of Luggage
Senior Travel - Hazel M. Freeman, Editor

Here are some precautions you can take to help minimize the anguish of not seeing your bag revolve around the baggage carousel at the end of your trip.




The Way of Holiness
Christian Living - Lynne Chapman, Editor

A highway straight into God's holy city.




Florida National Cemetery
Florida - Georgiana Kurtz, Editor

Florida National Cemetery, located near Bushnell, is worth a visit, even if you don't have a loved one buried there, as a way to pay tribute to those who have served in the U.S. Armed Forces. It is a place of peace and beauty.




Optimal AMH For Ovulation Induction
Infertility - Hannah Calef, Editor

Having a high AMH may reduce the chances of responding to ovulation induction




Golden Russet Apple
Landscaping - Connie Krochmal, Editor

The golden russet apple is one of the best known russet apples in America. It has long been a favorite.




Bathrooms, Buses and Elevator Doors
Etiquette - Lisa Plancich, Editor

A surefire way to irritate the person or people on the other side of the door is your failure to yield.


| Google+ |
E D I T O R R E C O M M E N D E D
The Weiser Field Guide to Cryptozoology


The Weiser Field Guide to Cryptozoology by Deena West Budd includes information, interviews, and stories about forty different cryptids seen in various places all over the world by credible eyewitnesses like policemen, rangers, and doctors. Readers will learn where and how to find flying humanoids, hairy humanoids, giants of all kinds including rabbits, bats and spiders, goblins, and vampires.
Pinnacle Car Care


The Creme De La Creme of Ultimate Car Care is In the House! Using Pinnacle´s product line is like a visit to the salon and the results--magnifique!
Mastering Essential Math Skills


This exercise book is an excellent resource to practice and review math skills you´ll need to establish a strong foundation and smooth transition into Algebra and other higher math courses. Workbooks are available for 4th – 5th grade and middle school / high school.